Flathead Catfish Pylodictus olivaris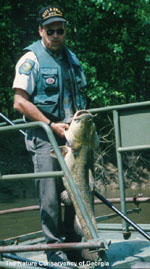 Flathead catfish are typically pale yellow to light brown on the back and sides, and highly mottled with black and/or brown. The belly is usually pale yellow or cream colored. The head is broadly flattened, with a projecting lower jaw. The tail fin is only slightly notched, not deeply forked as is the case with blue and channel catfish. Young fish may be very dark, almost black in appearance.
The native range includes a broad area west of the Appalachian Mountains encompassing large rivers of the Mississippi, Missouri, and Ohio basins. The range extends as far north as North Dakota, as far west as New Mexico, and south to the Gulf including eastern Mexico.
Fishermen began catching flatheads in the Ocmulgee River near Macon in the early 1970s. Since then, they have spread down the Ocmulgee and Altamaha rivers and upstream on the Oconee River to the Lake Sinclair dam at Milledgeville. Voracious feeders, flatheads have decimated the populations of redbreast sunfish, and have almost wiped out the bullhead catfish.
In 1988, state researchers caught an average of 44 pounds of flathead catfish an hour on the Altamaha River; in 1996, that average was 594 pounds, at an average of 8 pounds per fish. In 1988, researchers caught an average of 105 redbreast sunfish an hour on the Altamaha compared with 1996 when they averaged 70 per hour.